During Simon the Cockapoo's six-week recovery period from luxating patella surgery, he started to show some classic behavior problems:
Excessive
whining
, especially when penned and also during the night.
Aggression toward Alvin, the other dog in the house.
Refusal to obey a command he had seemingly learned perfectly - the
Come
command.
It does not take a dog behaviorist to recognize that these behaviors require correction as immediately.
Unfortunately, we do not have a dog trainer on site, so the next best reference for
correcting dog behavior
is the dog training bible -
Secrets To Dog Training
: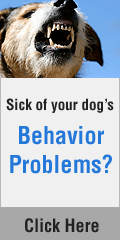 Free BONUS
For Ordering
Secrets To Dog Training
by August 31

Send proof of purchase with the email address and name used to order
Secrets To Dog Training
to secrets_to_dog_training@comcast.net. Please use "BONUS" in the subject of your email.
As soon as your purchase is validated (asap), you will receive this bonus pdf: